PhoneTree Messaging Systems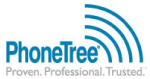 VoiceWave™ is an automated messaging solution that simplifies an organization's communications. The hardware solutions are best for organizations that prefer a one-time purchase with no per-call charges. Calls are made using a standard phone line. VoiceWave Online is available as an add-on to the VoiceWave Plus and VoiceWave Premium units, or can be used as a stand-alone solution. Online services are priced on a per-message basis.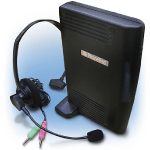 Enjoy the benefits of generating twice the productivity in half the time it would typically take to manually call everyone in your list. Simply enter or import data, record your message and send. A Call Wizard customizes your calling options step-by-step. Access detailed call reports showing how each call was received; busy signals, hang-ups, answering machines or no answers.
VoiceWave
With VoiceWave, you can send automated outgoing voice messages to an unlimited number of recipients, at scheduled times, days, and dates. It also allows you to create separate messages to be delivered if a person answers the phone, or if an answering machine or voice mail picks up. You can prompt the recipient to press a button for more information about a certain topic, freeing the system up to deliver only the information each person needs to hear.
Click here for pricing & ordering
.
VoiceWave Plus
With VoiceWave Plus, you get all the same great features as VoiceWave, with the addition of requesting information by touch tone replies and voice mail responses in your messages. It also allows you to record multi-lingual messages. The VoiceWave Plus can become an inbound message center with up to 999 messages that people can dial in to hear. You also gain access to VoiceWave Online features, including true SMS/text messaging.
Click here for pricing & ordering
.
VoiceWave Premium
With VoiceWave Premium, you get all the same great features as VoiceWave Plus, with the added ability to define up to three alternate phone numbers to try if you aren't able to reach the person at first. You also get text-to-speech technology in messages, for when you want to include information that can't be recorded individually, such as customizing the message with the recipient's first name, or the date and time.
Click here for pricing & ordering
.
System Features
(hover for details)
VoiceWave
VoiceWave
Plus
VoiceWave
Premium
Easy importing from PowerChurch Plus PowerChurch includes "Create a PhoneTree File" menu options in various areas of the program. This file imports directly into the VoiceWave software.
·
·
·
Selectable calling times, days, and dates This option allows you to choose exactly when you want the job to begin and end, increasing the accuracy of connecting to everyone on your call list. The call scheduling allows you to call now or pick a time and date in the future when you want your call job to begin.
·
·
·
Call Wizard (Guided message creation) This robust Call Wizard is designed to walk you through the advanced messaging options. The VoiceWave Call Wizard gives the confidence you need to truly make this a do-it-yourself process.
·
·
·
Duplicate name & number screening The VoiceWave software includes sophisticated duplication management to make sure your message gets delivered only once to each person.
·
·
·
Remote operation with voice prompts Use any touch-tone phone to access your VoiceWave and start a new contact job without having to be in the office. VoiceWave works with your busy on-the-move schedule to provide you with the ease of call job management from any location.
·
·
·
Night (after hours) messaging mode Based on the parameters you set in VoiceWave, choose to send a different message after hours. This is useful when there will be no one to answer your phone after a certain time.
·
·
·
Unlimited list capacity Import, manage and deliver messages to groups of virtually any size with VoiceWave. This allows you to easily work with large volume groups.
·
·
·
USB compatible Now the standard for computer accessories due to its speed and reliability, USB is the method used to connect VoiceWave to your PC.
·
·
·
FreeText™ messaging Send a group text message to your contacts at no charge, when you know their mobile provider.
·
·
SMS text messaging (via VoiceWave Online) Whether or not you know the mobile providers, you can send a true SMS text message to your contacts. (fees apply)
·
·
E-mail messaging Send individual emails to all or part of your contact list. Reach your contact with their preferred method of communication.
·
·
Touch tone replies for response You can set up to four different prompts that allow recipients to respond to a message using their touch-tone. This provides an opportunity for them to immediately reply; increasing your office efficiency.
·
·
Multi-lingual messaging Automatically delivers alternate messages in multiple languages for those who serve a diverse population.
·
·
Simultaneous messaging This allows you to send out multiple jobs at one time, providing you the ability to reach multiple recipients for multiple reasons.
·
·
Accessible from network VoiceWave is installed on one machine and multiple users can access the software from multiple locations. Multiple users can initiate call jobs, monitor calls in progress and view call results from their workstations.
·
·
Custom messaging Use VoiceWave to create custom messages that include individualized information for each recipient. Each variable field ties to a piece of information that is imported along with the name and phone number of each individual in your file. Record each message component in your own voice for a smooth flow.
·
Spoken date & time Date and time components recorded by human voices or using Text-To-Speech (of both genders) provide smooth, natural-sounding customized messages.
·
Text-to-speech Realistic NASA approved text-to-speech technology is available for your messages, and is perfect when you want to include information in your messages that can't be recorded individually such as the contact's first name, date and time.
·
Click here for pricing and ordering or call (800) 486-1800.
Hardware Requirements
1.8GHz Pentium 4 or better
Windows XP, Server 2003, Server 2008 (32/64 bit), Vista (32/64 bit), Windows 7 (32/64 bit)
1GB of RAM (2GB for 64 bit operating system)
5GB Hard drive space
CD-ROM drive
1024x768 or higher resolution monitor
USB port (one per VoiceWave unit)
Phone Line Requirements
Customer must supply one analog phone line for each PhoneTree port ordered. Standard model price includes one phone port. VoiceWave and VoiceWave Plus include one active phone line. Double Speed & Capacity adds a second phone line. VoiceWave Premium includes two active phone lines. Double Speed & Capacity adds a second VoiceWave Premium unit for four phone lines total.
VoiceWave Online
VoiceWave Online gives you many of the same great features as the hardware solutions above, but requires no up-front hardware investment or dedicated phone lines. It is priced on a per-message basis. Sign up for a free trial at
www.voicewaveonline.com
.
Use the promo code "PowerChurch" to get started with 100 free credits!
Since this is an online solution, your calls are completed in a much quicker fashion, allowing you to send out urgent messages, such as last-minute changes to service times or cancellations. VoiceWave Online also features true SMS/text messaging. It is available as a stand-alone solution, or as added flexibility for users of VoiceWave Plus and VoiceWave Premium.