PowerChurch Software Wins 2009 Campbell Award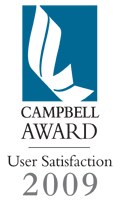 PowerChurch Plus is rated top software solution for church management based on a nationwide user survey conducted in 2009 by the independent research firm Campbell Rinker.
Asheville, NC - June 2, 2009
- PowerChurch Software announced that their church management product, PowerChurch Plus
TM
, has received the highly regarded Campbell Award for User Satisfaction in the 2009 Church Management Solutions nationwide survey.
"We are honored and excited to receive this award," said Carla Bracalente, Operations Manager for PowerChurch Software. "We spend so much time in the development process trying to make the most functional and intuitive products that we can. We understand that our users' satisfaction is first priority. This kind of recognition from our users lets us know that we are doing something right."
The Church Management Solutions survey was conducted online in February 2009 by Campbell Rinker, an independent market research firm based in Valencia, CA. Users of all major Church Management Solutions were included in the survey, representing churches of all sizes and denominations. Information regarding user satisfaction, pricing, purchasing decisions, and relevant church data was gathered in the survey. For more information, visit
www.campbellrinker.com
.
"Church administrators need opportunities like this to voice their opinions about the Church Management Solutions they use," said Dirk Rinker, President of Campbell Rinker. "It is great to learn which products set the bar for the industry, and we're glad to recognize the outstanding efforts by PowerChurch Software with this Campbell Award."
PowerChurch Plus is a complete software package, featuring Membership, Contributions, Accounting, and Event Scheduling. Both local and online access versions of the software are available.
"Everything we do as a company evolves around the customers we serve," says Bracalente. "Most of the enhancements we've made to PowerChurch Plus can be traced back to a telephone call or letter we received from a customer with a great idea."
About PowerChurch Plus
PowerChurch Software is located in Asheville, NC. The company was founded in 1984, with the first sale of the software later that year. Since then, over 30,000 churches and organizations have come to rely on PowerChurch Software for their Church Management Solutions. For more information, visit
www.powerchurch.com
.