MagTek Mini MICR Check Reader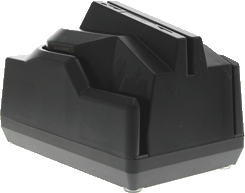 Increase the speed and efficiency of your Contributions data entry using a USB check reader!
PowerChurch Plus retains the scanned information from the check to quickly locate each contributor next time their check is scanned.
Amounts and distribution of their last recorded contribution is automatically entered for you.
Requires PowerChurch Plus versions 8.5 and higher.
Compatible with PowerChurch Online.
Check Readers sold by PowerChurch Software have been pre-programmed with the correct formatting codes and have been QA tested. (More information)
USB Keyboard Emulation model (#22523009) which requires NO INSTALLATION for Windows and Mac computers.
Only $275.00
(plus $20 shipping)